Rosemary and Garlic Marinated Olives
Olives, a favorite cocktail party nibble, become even tastier after soaking in a flavorful vinaigrette.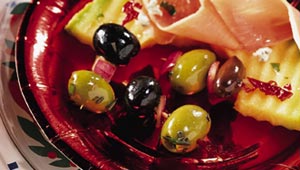 Prep Time: 10 min
Start to Finish: 1 days 10 min
Makes: 16 servings

1/2 cup olive oil


1/4 cup balsamic vinegar


1 teaspoon grated lemon peel


4 garlic cloves, thinly sliced


4 sprigs fresh rosemary, cut up


1/2 cup coarsely chopped red onion


1/2 cup pitted green olives


1 (6-oz.) can pitted ripe olives, drained


1 (6-oz.) jar pitted kalamata olives, drained

In medium nonmetal bowl or resealable food storage plastic bag, combine oil, vinegar, lemon peel, garlic and rosemary; mix well. Add onion and olives; stir gently to mix. Cover bowl or seal bag. Refrigerate at least 24 hours.


To serve, remove olives from marinade with slotted spoon; place in serving bowl. Reserve marinade for later storage of olives. Serve with decorative toothpicks or cocktail forks.
[Source: http://www.pillsbury.com/recipes/ShowRecipe.aspx?Rid=17200]